The year 2020 is all about making big changes, especially with your home interiors. And if you've been thinking about doing complete bathroom renovations for your Brisbane home, now is the right time. But before getting started on this project, check out some of the trends that are coming your way this year, whether it's colors, finishes or accents.
Some older trends are going to be big again in 2020, so if you missed out on any, here's your chance. All of these will certainly steal the show. To help you make the right plan, here are some of the bathroom trends this year to help you make the right choice about your space:
Out with grey, in with black
The past two years may be all about grey when it comes to bathroom remodeling projects. However, design experts are expecting a huge change this year. This season is going to be all about bolder, darker styles for that modern look.
Grey remains a good choice of color, but black is taking over. Darker tones are going to keep being the popular choice for bathroom designs in terms of the vanities, light fixtures, mirror, and other elements. Many homeowners are going to see the appeal of matte finishes as well. But for those who aren't ready to commit – after all, darker tones are a bit more difficult to pull off without making a space look gloomy – grey will continue to be the go-to color.
People can also opt to settle for the classic white or neutral colors if they aren't interested in the aforementioned shades.
Gold and brass are making a huge comeback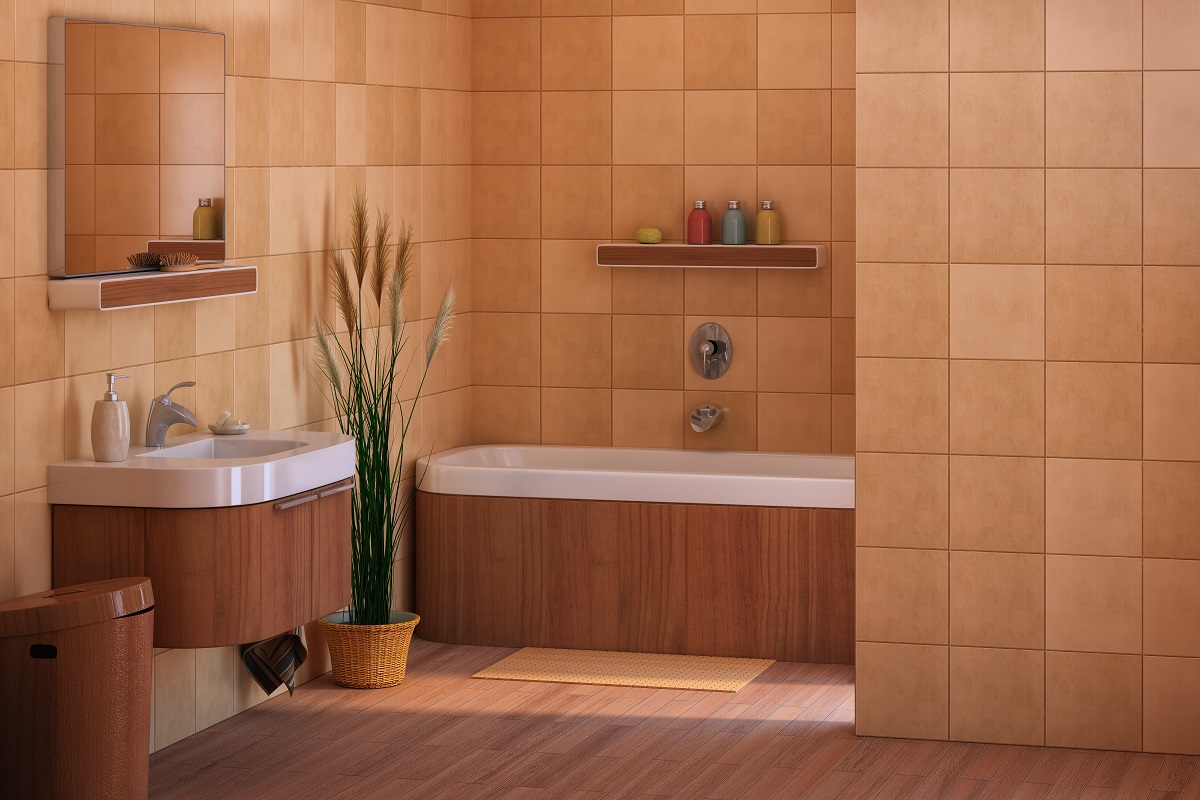 For some homeowners, it's all about bringing some warmth back inside their living spaces. When it comes to toilets, sinks, and anything that has to do with the bathroom, gold and brass are going to be the top picks. Their vintage appeal will charm many homeowners, and before you start thinking about your grandparents' bathroom brass faucet, think about this option as the perfect addition to your bathroom that needs some dimension, depth, and feel of luxury to it.
Get those warm toned and gold plumbing fixtures for that elegant and sophisticated style instead of those traditional choices that use shiny polished chrome that give off sleek, cool, and modern vibes. Here's another fact that makes these classic elements the smarter choice – you can keep fingerprints and water spots in your bathroom well-hidden.
Wood accents are becoming popular choices once again
Because grey is gradually finding its way at the top of all these home remodeling trends, warmer tones and accents are coming back along with it, especially wooden ones. Wood that comes in many interesting shades is capable of complementing bathroom colors such as blue, green, white, and even darker shades. Yes, you can put it anywhere around your bathroom for maximum effect. Wood accents are also known for being the perfect complement for vintage and industrial design trends, so it's unsurprising they're becoming a popular choice again. Try these tips and infuse a classical style to make your bathroom flow with the current trend.