You see, while we're not the type to turn down the opportunity of treating ourselves to a nice tub of ice cream and relaxing on a beautiful Saturday evening, there comes the point when doing things on your own and too much isolation becomes infuriating. Sure, there's nothing inherently wrong with watching your favorite list of films for the nth time in a row, but let's not forget that we are social beings by nature; therefore, meeting, connecting, and dating are but natural things we do.
However, with the Covid-19 global pandemic still running crazy and the new normal setting some tough pre-cursors to follow, most people's dating life has been stuck in a rut and inactive for the better half of a year or so. But now's not the time to be moping around and just letting it slide because you will definitely regret not putting in the extra effort to kickstart your dating life in spite of the challenges today!
Your Dating Profile And First Impressions
For starters, we need to set things straight and come to terms with the fact that you won't be able to walk up to that cute guy or girl in the bar as usual because of the inherent health risks it carries and eventually coming off as insensitive to the circumstances. The new normal dating game plays on a whole new spectrum, and while not entirely foreign to us, it will require the perfect dating profile.
Working On Your Photo Game Is A Must: Look, we don't expect you to post Met Gala appearance-level type of selfies and shots of yourself onto your tinder profile; it's close to impossible that you'd find an outfit that can rival what celebrities worked so hard to achieve just for that day. However, we strongly recommend that you work on your photo game because first impressions are the only thing you can count on when dating online. So, please smile and ditch the group photos!
Short, Sweet, But Most Of All Genuine: As far as basic information and your bio are concerned, you want to keep it short, sweet, but most importantly, genuine about your persona. The last thing you'd want to write is a complete abstract exposition of who you actually are as a whole, which will inevitably lead to some bad first dates because the other party will be expecting a completely different person.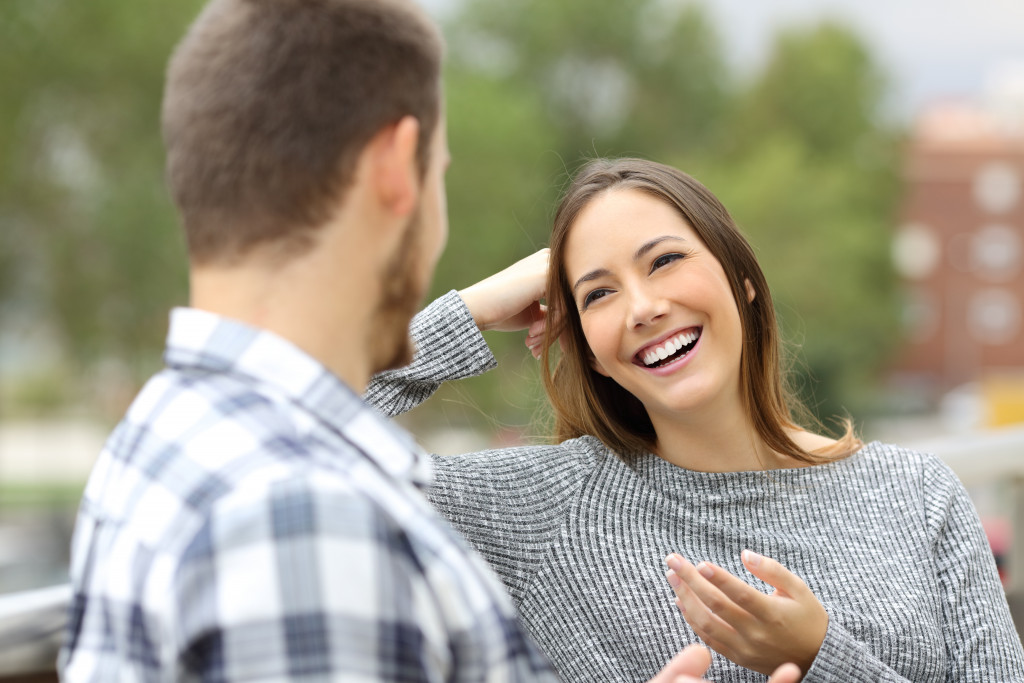 The New Normal Demands Starting With Virtual Dates
Once you've gotten past the first stage, linked up with a few matches, and have been talking to them regularly either through texts or a quick FaceTime, always remember that your first date will have to happen on virtual grounds. Yes, we understand how disappointing it might feel to postpone meeting them in person, but we can't help but comply with social distancing guidelines and teach other boundaries first.
An Online Netflix And Chill: Netflix and chill have become a staple in the world of modern dating, and while we can't afford to have them by our side physically watching movies, you can still live stream and watch your favorite films together. Of course, nothing beats having your romantic interest run their fingers across your hair or have your eyes meet by chance, but there's always the first step to everything.
Explore Games You Can Play Together: If you want something more engaging and immersive, we strongly recommend exploring some fun online games you can try to play together. And even if your romantic interest isn't that big of a gamer themselves, there's plenty of fun party games and icebreakers you can choose from online.
Grabbing The Chance To Meet Face-To-Face
Last but not least, once you've gone through the second stage of virtual dates and have been seeing each other online regularly for the past week or so, now's your chance to bring up the opportunity of meeting face-to-face. You must go through the first two steps because this establishes some intimacy beforehand, so you don't meet each other vis-a-vis and feel like strangers.
Do Something Exciting, But Don't Stretch Your Luck: When planning for your date, we strongly suggest that you opt for something exciting and not waste the chance of meeting each other for the first time face-to-face. So, please avoid doing the cliche scenes of heading to the movies or walking at the park, but go a step further, like taking a quick road trip or maybe even booking a rehearsal room for rent on some dance classes. Just remember to double-check if they agree because you also don't want to come off as overbearing.
Dating Is Possible; Just A Lot Harder.
In conclusion, reinvigorating your dating life is very much possible in the new normal; it's just a lot harder than most people would expect. And because of the increased challenges and hurdles to meet new people, expect that the person on the opposite end to believe you're putting in the effort as well.