Decorating your first apartment can be both exciting and daunting. On one hand, you finally have a space that's entirely yours to do with as you please. On the other hand, furnishing an entire apartment can get expensive—fast. If you're working with a tight budget, don't worry! There are plenty of ways to decorate your first apartment without breaking the bank. Keep reading for our top tips.
Start With a Mood Board
Making a mood board is a great way to stay faithful to the theme you're aiming for when decorating your apartment. A mood board is simply a collection of, colors, and textures that inspire you. It can help you stay focused when shopping for furniture and other décor items, and it can also be a great way to get for DIY projects.
To make a mood board, gather images of rooms, furniture fabrics, and accessories that you like. You can find images online or in magazines, you can take photos of things you see while out and about. Once you have a bunch of images collected, start sorting them into categories—such as "color schemes" and "types of furniture." After you have your categories sorted, start thinking about how you mix and match different elements to create the look you want.
Once you have a mood board created, it will be much easier to stay faithful to your theme when shopping for décor items. And if you ever get stuck, simply refer back to your mood board inspiration!
Mix High and Low Price Point Pieces
One of the best ways to stretch your decoration budget is to mix high and low-price point pieces. For example, splurge on a few key pieces that you love—like a statement couch or a dining room table—and then fill in the rest of the space with more affordable finds.
When decorating your first apartment, it's important to shop around to find the best prices. Canvas different stores like Target, Ikea, and HomeGoods to compare prices and find more furniture and other items. You may also want to consider online stores like Overstock or Wayfair, which often have great deals on home decor items.
Don't forget to drop by your other local appliance and furniture shops to see what other interesting things they can offer. By shopping around, you can save a lot of money on your apartment décor. Get creative with your shopping and you'll be surprised at what you can find!
DIY Where You Can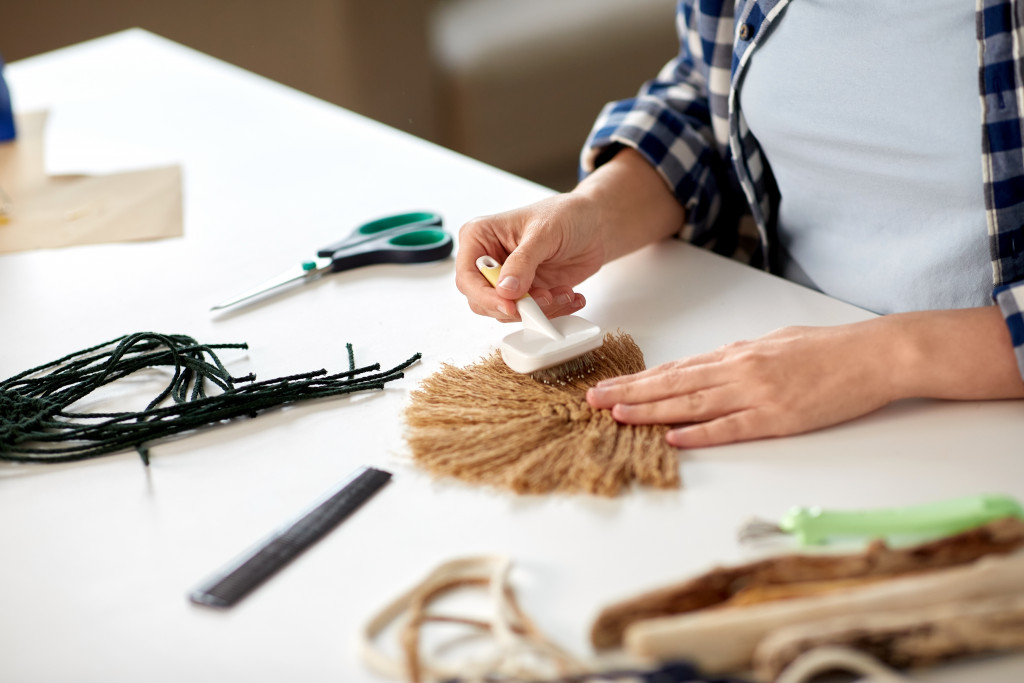 Another great way to save money when decorating your first apartment is to DIY where you can. Pinterest is a goldmine of easy and inexpensive DIY projects perfect for sprucing up any space. From wall art to throw pillows, there are plenty of ways to add your personal touch without spending a lot of money. Not feeling particularly crafty? No problem! There are plenty of no-sew options out there that anyone can do. It's all about getting creative!
Just remember that when it comes to DIY projects, it's important to consider the timeline. Many DIY projects can be completed in a matter of days, but others can take weeks or even months. If you're short on time, it's best to choose projects that can be completed quickly.
If you have a little more time, you can take on bigger projects. Just be sure to factor in the time commitment when deciding which projects to undertake. And don't forget to allow for plenty of margin in case of unexpected delays! By considering the timeline of your DIY projects, you can ensure that everything gets done promptly and that you don't overcommit yourself.
Edit, Edit, Edit!
Finally, when it comes to decorating your first apartment on a budget, it's important to edit, edit, edit! When you're working with limited resources, it's crucial to be selective about what you bring into your home.
When decorating your first apartment, it's important to edit your belongings and get rid of anything you don't need. This includes clothes, accessories, furniture, and anything else that takes up space. By getting rid of the things you don't need, you'll have more room to work with and can focus on bringing in only the essentials.
It can be tough to let go of things we've spent years collecting, but often it's necessary to create a cohesive look. If you're having a hard time parting with your belongings, try thinking about it in terms of function. Ask yourself if each item brings value to your life and home. If the answer is no, then it's probably time to say goodbye.
A well-edited space always looks more expensive than one that's crammed full of furniture and knick-knacks. And by getting rid of the excess, you'll be able to better focus on what's important and create a space that truly reflects who you are.
Decorating your first apartment doesn't have to be expensive—if you're willing to get a little creative! Having a mood board, mixing high and low price point pieces, DIYing where you can, and editing sparingly are all great ways to stretch your budget further. With these tips in mind, you'll be able to create a stylish and cohesive space that doesn't break the bank.