A garage door is one of the first things people notice about a home. People notice it first because it is one of the most visible features of a home. It is also an important part of the home that needs to be functional and durable. It provides security and shelter for your car, but it can also be a stylish addition to your home's exterior.
With so many choices on the market, it can be difficult to know which garage door is best for your home. You should consider a few factors before continuing with your new garage door installation. Keep reading for tips on picking the right garage door for your home.
Factor in your budget
Garage doors can be expensive because they are large, durable, and often include insulation and weatherproofing. If you are looking for a new garage door, be sure to factor in your budget and choose a door that is within your price range. Many options are available, so you are sure to find a door that fits your needs and budget.
Material matters
One of the first things you need to consider when picking a garage door is what material you want it to be made from. You should choose a material that is durable and weatherproof to ensure that your garage door lasts for years to come. Common materials include wood, steel, aluminum, and fiberglass. Each material has its own pros and cons, so it's important to consider this before making a decision. For example, wood doors are beautiful and classic, but they require more maintenance than other types of doors on the market.
Steel doors are durable and low-maintenance, but they can dent and rust over time. Aluminum is a popular choice for garage doors because it is lightweight and durable. It is also weatherproof, so it can withstand harsh weather conditions. They are also relatively affordable, making them a popular choice for homeowners on a budget. Fiberglass is also a popular choice for garage doors because it is strong and durable. Fiberglass garage doors are available in a variety of colors, so you can find one that matches the look of your home.
Functionality comes first
Before you start browsing garage doors based on style alone, it's important to first consider functionality. The climate you live in and how often you use your garage are all factors that will influence what type of door is right for you. For instance, if you live in an area with high winds, you might want to choose a door that has been tested and certified for wind resistance. Also, if you have a tight budget, you might want to prioritize durability over style.
It is highly important to think about how your new garage door will function. Some garage doors open vertically, while others open horizontally. Choose the type of door that will work best for your needs. If you have a lot of storage space in your garage, you may want to choose a door that opens horizontally so you can take advantage of all that extra space. If you only need to store one or two cars in your garage, you may want to choose a door that opens vertically, so it takes up less space. Think about how you will use your garage and choose a door that will meet your needs.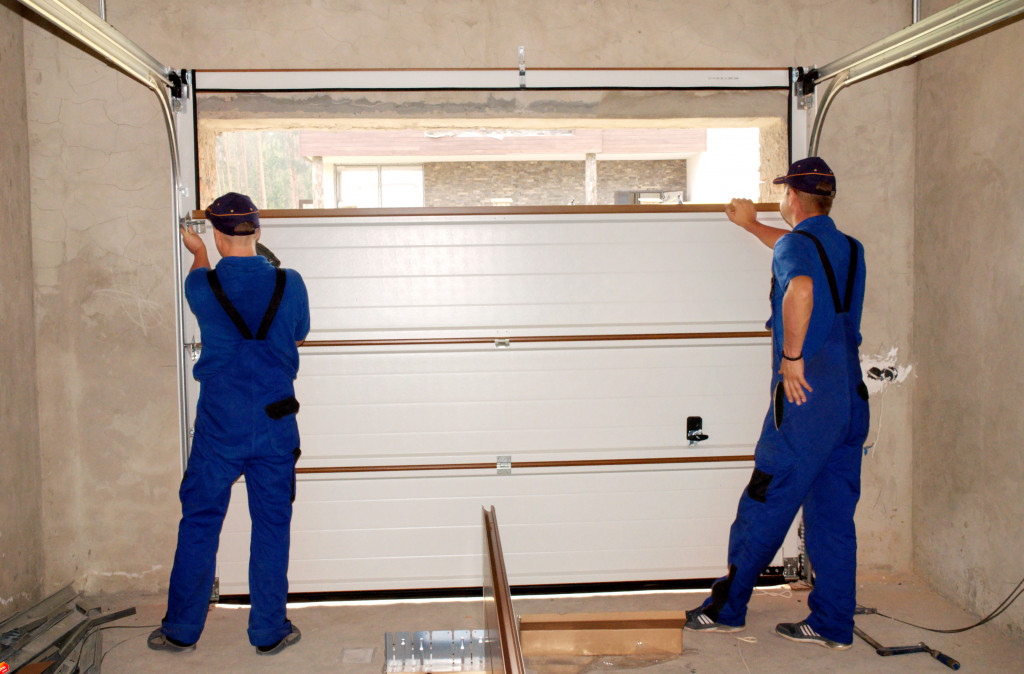 Think about style second
Once you've narrowed down your options based on functionality, then you can start thinking about style. There are many styles of garage doors to choose from, so you can find one that matches the look of your home. Whether you prefer a traditional or modern style, there is a garage door to match. If you have a modern home, then a sleek aluminum door might be the right choice for you. If you have a traditional home, then a wood door with ornate hardware might be more your style. There are endless possibilities when it comes to choosing a stylish garage door for your home—it just takes some time and effort to find the perfect one for you.
Picking the right garage door for your home is no small task—but we hope that our tips have helped make the process a bit easier for you. Remember to start by thinking about functionality first, then move on to aesthetics second. And most importantly, don't be afraid to ask for help from a professional if you're feeling overwhelmed by all the choices on the market today.