• Educate family members on the importance of maintaining physical, mental, and emotional health.
• Declutter the space by getting rid of items that are no longer being used. 
• Choose natural materials instead of synthetic ones when decorating or renovating the house. 
• Create indoor and outdoor green spaces to improve air quality and add beauty to the house.
Creating a healthy home environment that you and your family can enjoy is important. Not only is good health essential for daily activities, but it also has a large impact on your well-being. Being surrounded by an environment that supports your physical, mental, and emotional health will set you up for success in the long run. Here are some strategies that will help anyone achieve this.
Increase Health Awareness In The Family
Having a shared understanding of the importance of health within a family is essential to creating a healthier home environment. Educate your family members on the importance of maintaining their physical, mental, and emotional health. You can do this through the following:
Engaging in Conversations About Healthy Habits
Encourage conversations about healthy habits such as getting enough rest, eating nutritious meals, and being active. This will create a culture within your family that emphasizes the importance of taking care of one's health.
Regularly Going to Health Visits
Regular visits to the doctor are very important for maintaining your health. Make sure all family members go for regular check-ups and take any proactive steps to maintain their well-being. For children, looking for reliable pediatric healthcare services can be particularly important. Pediatric healthcare is crucial for the early detection, diagnosis, and treatment of diseases, while also providing preventative care such as vaccinations and nutritional guidance.
Choosing Healthy Food Options
Making sure your family is eating nutritious and balanced meals will positively affect their health. Try to limit processed foods, sugars, and unhealthy fats from your diet and focus on fresh vegetables, fruits, nuts, whole grains, and lean meats instead. This will help you create a healthier living environment for everyone in the household.
Limiting the Amount of Time Spent on Screens or Devices
Reducing the amount of time spent on screens or devices is also important for creating a healthier home environment. The overwhelming use of electronics can lead to physical and mental health problems such as obesity, stress, depression, neck pain, and headaches. Try to limit screen time as much as possible and find alternative activities that all family members can take part in.
Exercising Regularly
Creating a home environment that promotes physical activity is essential for staying healthy. Incorporating simple exercises into your daily routine, such as jogging, walking, or going to the gym, can help you stay active. You can also find fun activities like family sports or dance classes that everyone can take part in and enjoy.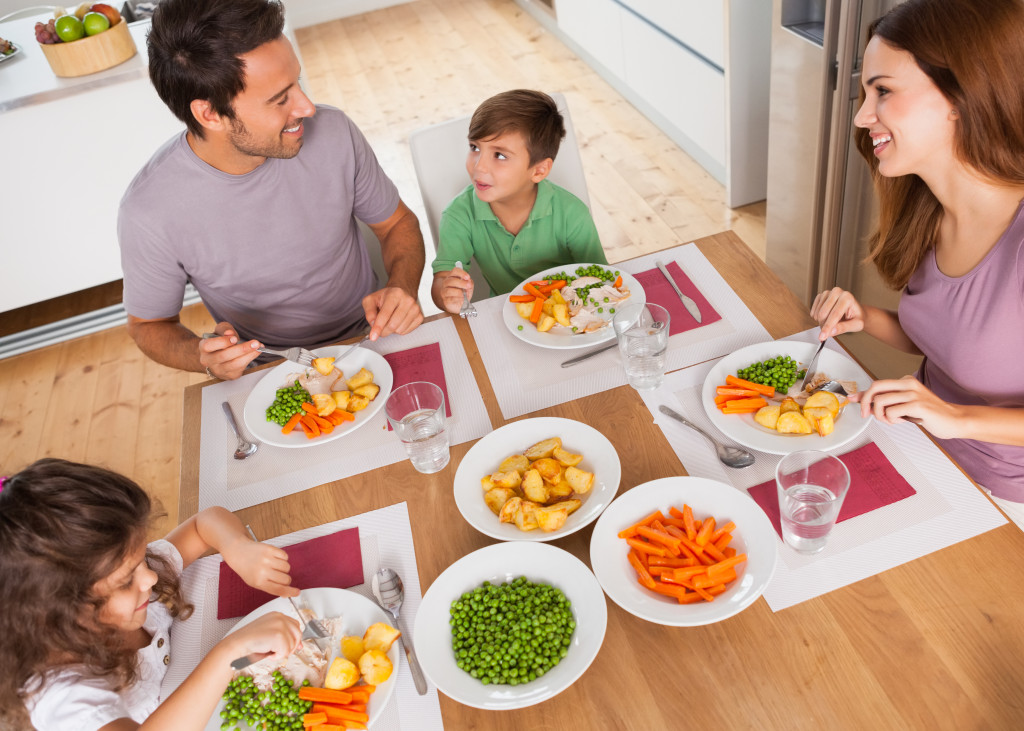 Declutter Your Space
A cluttered home not only looks bad but has been linked to feelings of anxiety and stress. One strategy for creating a healthier home is to declutter your space.
Start by going through your belongings and getting rid of things that you no longer need or use; this will free up physical and mental space as well as give your home an overall neater look. Make sure to take it one step at a time so that it doesn't become overwhelming—you don't have to do it all in one day!
Afterward, create a system for organizing items that makes sense for you and your family. This could be anything from labeled drawers, baskets, or folders to specific spots in closets or shelves. Once everything has been organized, it will help create a less stressful environment that is easier to maintain.
Choose Natural Materials
When decorating or renovating your house, try using natural materials whenever possible. Natural materials, such as wood, stone, rattan, or cork, are better for the environment than synthetic ones like plastic or vinyl because they are biodegradable and made from renewable sources.
Plus, they tend to be much more aesthetically pleasing than their synthetic counterparts! This is because natural materials come in various colors and textures, making it easy to create a beautiful, eco-friendly space.
Additionally, natural materials often contain fewer toxins than synthetic ones, which helps promote better air quality within the home while reducing your exposure to potentially hazardous chemicals.
Create Green Spaces
Green spaces bring many benefits, such as improved air quality and increased biodiversity. Plus, they just make any space look great!
If you have outdoor space available, consider planting trees or building garden beds with native plants so you can enjoy the sight of green foliage year-round. Even if all you have access to is indoor space, there are still plenty of ways to incorporate greens into your home, such as growing herbs on windowsills or investing in potted plants like aloe vera or bamboo palms.
It's easy to find low-maintenance plants that require minimal care yet still look beautiful when placed strategically around the house. If possible, keep a few plants in each room of the house so you can enjoy their beauty while they improve your home's air quality.
Creating a healthier home environment doesn't have to be difficult—it just requires some thoughtfulness and effort on your part! Decluttering regularly is key; start by getting rid of anything that isn't needed or used anymore so that you can enjoy an uncluttered space without feeling overwhelmed by piles of stuff everywhere. Incorporating natural materials into décor will improve air quality while adding greenery (both indoors and out) will bring life into any room—literally! By implementing these strategies into your home setup, you will create an environment where everyone can flourish while staying safe from any potential hazards lurking in the shadows of clutter or synthetic materials.