The construction industry has seen many advances in material science to enable the design of taller and more elaborate structures. Despite advances in building materials such as glass cladding, high tech concrete and thermos-plastic carbon fibre, much of the building industry still relies on traditional techniques using bricks and mortar, concrete, steel and timber to build houses, offices, warehouses and various civil engineering projects.
Internal design is similar in its reliance on certain materials to make a place habitable and functional. Internal walls are commonly made of blocks, plasterboard or ply. Although the finishing is adjusted to suit someone's taste, or the latest style or fad, elements of cost and speed also play a role in the design.
A skilled plasterer leaves a smooth and level surface for the painters and decorators to complete a room. Bad plastering is quickly noticeable and often requires the wall to be stripped back and reskimmed.
Dry lining, also known as drywalling, takes away the expense, time and mess of wet plastering. The technique uses factory-made plasterboard panels, comprising of compressed gypsum and other fibres held together between thick layers of facer and backer paper. The panels are fixed to block walls by a dot and dab method, where a thicker skim plaster or special adhesive is applied to the wall, and the board is placed against it. Insulated plasterboard lining can be glued to a block wall. Where an internal wall is not structural, plasterboard can be nailed or screwed to a timber stud frame. Plasterboard is also popular for ceilings.
Although dry lining is easier to master than plastering, you need to use the correct tools to complete the task well. Dry lining tools for sale include jab saws, rasp, supports, taping knife, sander, T square, tape measure and corner trowel. Most tools are affordable and available online or from the local builders' merchants.
The advantages of dry lining
Easy repair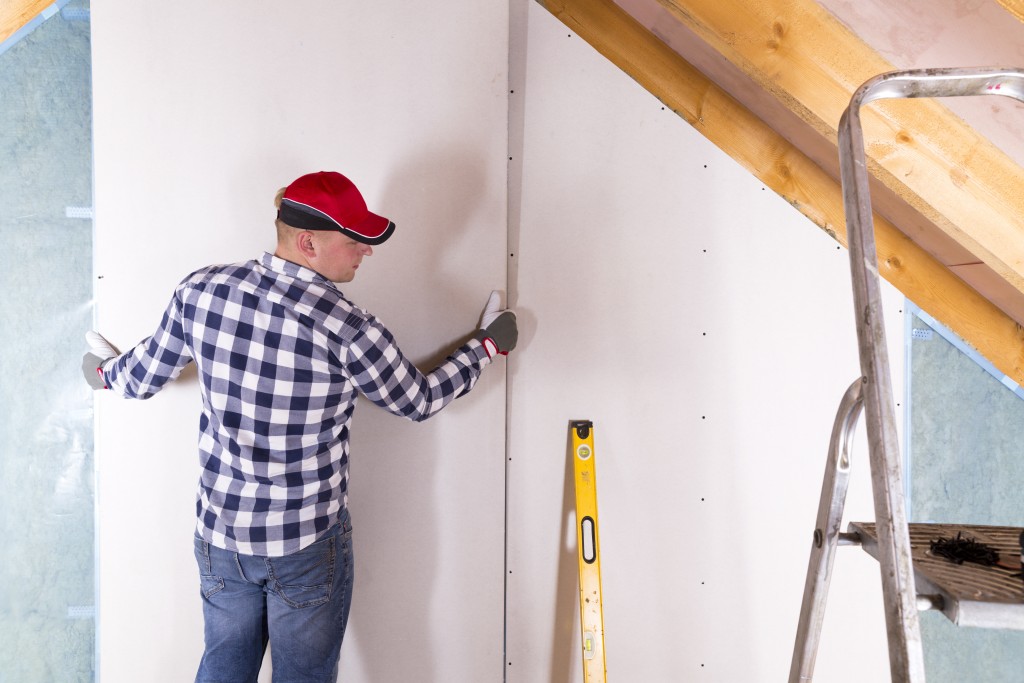 Dry lining is easier to repair as chipping, cracks and holes from general wear and tear take their toll. Cut out the damaged area and apply a pre-cut piece of plasterboard, either glueing or screwing to the stud or block wall. One the adhesive has set, smooth over the edges with a sander or tape and paint over the surface.
Durability
Plasterboard is available in different specifications. As well as thickness and increased thermal properties, additives give plasterboard fire retardant properties, increased strength and durability. Plasterboard can also be resistant to moisture and mould, saving costs on the replacement of infected areas.
Energy-efficient and Eco-friendly
Plasterboard with insulation backing, or drylined cavity walls filled with a fibreglass quilt, foam or polystyrene bead insulation significantly improve energy costs. This, in turn, contributes to savings in utility bills. Gypsum is a renewable material. Boards are easily removed for reuse or can be crushed up, reconstituted or used for agricultural soil conditioners.
Dry lining was first used in 1912 in the UK and is still a major part of the modern building industry. It has proved an attractive option for over a century. As a durable and easy-to-use building material, it is likely to be relied upon for another 100 years.