There are many ways companies give back to the community. Manufacturing-oriented ones commit to reduce their factory's waste and to source more responsibly their raw materials. Others look more outward by engaging in forest and marine ecosystem restoration activities.
Corporate social responsibility (CSR) is increasingly defined by the need to save our planet after decades of destructive industrial practices. National Geographic has logged 269,000 tons of trash floating on our oceans, which threatens the survival of many wildlife species. If your company is looking into doing a beach cleanup, here are some preparation tips to help you succeed and make an impact:
Place and Time
It's best to scout for the area you want to focus your cleanup months ahead of the scheduled activity. Choose a place that is infamous for the public's general neglect of it instead of a well-maintained beach. After coming to a consensus, approach the person in charge of the area or, in the case of a government-owned estate, formally request for approval of your cleanup activity from local officials.
The next thing you have to do is pick a date, preferably before summer starts or just when it is about to end, that is when there is minimal leisure activity in the area. Moreover, the cleanup should be timed when the beach is at its low tide when trash that has accumulated on the sands emerges. The team must arrive on-site just when the tide is about to go out to give ample time to prepare.
Form and Inform Your Team
The team should be advised of the date as early as possible so they can make time for it in their schedules. Each member should be assigned their respective roles. Someone needs to oversee the budget, supplies, logistics, information drive, registration, and event documentation. Require each of them to submit their proposals, each activity coming with its respective timeline, for you to review and approve before they execute them.
The one assigned to take care of supplies should be particularly careful in selecting the correct set of tools to pick garbage including pickers, gloves, and bags. Aside from sticking to the company's budget, it is worth considering the most environmentally conscious materials which are consistent with the end goal of the activity. For instance, trash bags made of recycled or biodegradable materials could be used instead of widely available polyethylene ones.
Sanitation and safety kits including first-aid wound care and medicines, wipes, bug repellents, and sunscreen cannot be left out in the preparation. Still, the team should be encouraged to bring tools they already have. Likewise, they should be instructed to wear clothing that is appropriate for the activity and that they can comfortably move in knowing there will be lots of bending and squatting.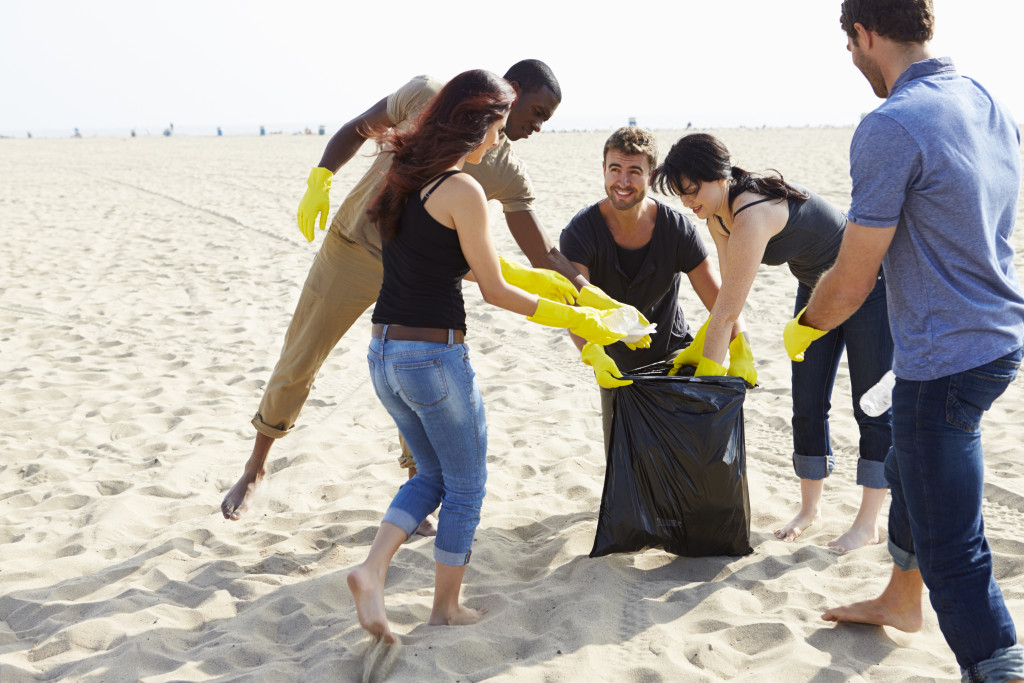 Orientation is Key
The team needs to be oriented on how they should handle every piece of trash they retrieve from the beach. Recyclable items like plastic, glass, and aluminum should be carefully sorted so that they can easily be sent out to recycling centers after the activity. Likewise, the team must be oriented on how to handle potentially infectious and hazardous waste like disposed of syringe needles, stool containers, catheters, face masks, and other discarded medical implements. There must be a puncture-proof container dedicated to these types of trash.
Don't Forget About the Logistics
Consider how to transport the team to and from the cleanup site. Are you going to hire shuttle vehicles or will you allow staff to drive to the side with their cars? If a practical option, will all of you walk or ride bicycles to the beach to minimize the activity's carbon emissions?
Also, consider how to efficiently scatter the team members in the entire beach's expanse so that you can gather as much trash as possible. One way to plan this is by dividing the beach's map into zones and assigning a leader for each. Days before the activity, team members and community volunteers need to be evenly distributed among these zones.
Depending on how big the participation of your cleanup is, you will need to rent several roll-off dumpsters and trucks that can accommodate the heavy load. The drivers should be properly oriented of their pickup and drop-off points in the event's duration.
Announce the Activity to the Community
Drive information about the event in various social media channels and through government portals. Encourage employees to disseminate the information to their circle as well. Make sure to make online registration seamless for volunteers. With this, you can encourage more participation as well as easily update your participant master list. Days before the event, make sure they are provided ample information on what they need to prepare and how they will go to the site.
Cleaning the beaches regularly is never a bad idea. If anything, you are serving the community better by maintaining a track record of coastal cleanups and, in turn, inviting more and more volunteers every year. The bigger the participation, the bigger your voice in advocating for the protection of your community's beaches.