Storage spaces are a must in most homes, especially in families with many members. It is sometimes too challenging to fit it all in one space. You have to learn how to work with your existing spaces and customize them based on your needs.
The initial step to create more space is to get rid of things that are not important and that you don't use anymore. After decluttering your home room-by-room, you'll be left with the essentials that you'll organize.
In the Living Room and Bedroom
Choose multipurpose furniture for both the living room and bedroom to maximize space. You can have a bed frame with attached drawers, pieces that can be both a seat or a table, and a sofa with cushions that you can open for storage are good examples. Search for rolling plastic containers that can fit under the bed. Stash things such as extra clothes, curtains, and mattress covers under the bed.
Mount a mini shelf to the wall on either side of the bed instead of bulky nightstands. Attach bigger floating shelves in the living room to put decors such as frames and flower pots.
Put your TV and other entertainment devices above your fireplace or on the wall to save space and offer a less cluttered look in the room. Better yet, place them inside a sliding or revolving panel to keep them out of sight. You would also have a closet-like unit to place the remote, cables, and other things from your entertainment.
Pick out a large area rug to make the room feel bigger, which you can place under the couch or other furniture. Also, put an ottoman in the living room to store bulky blankets, extra throw pillows, kids' toys, and other essentials.
In the Kitchen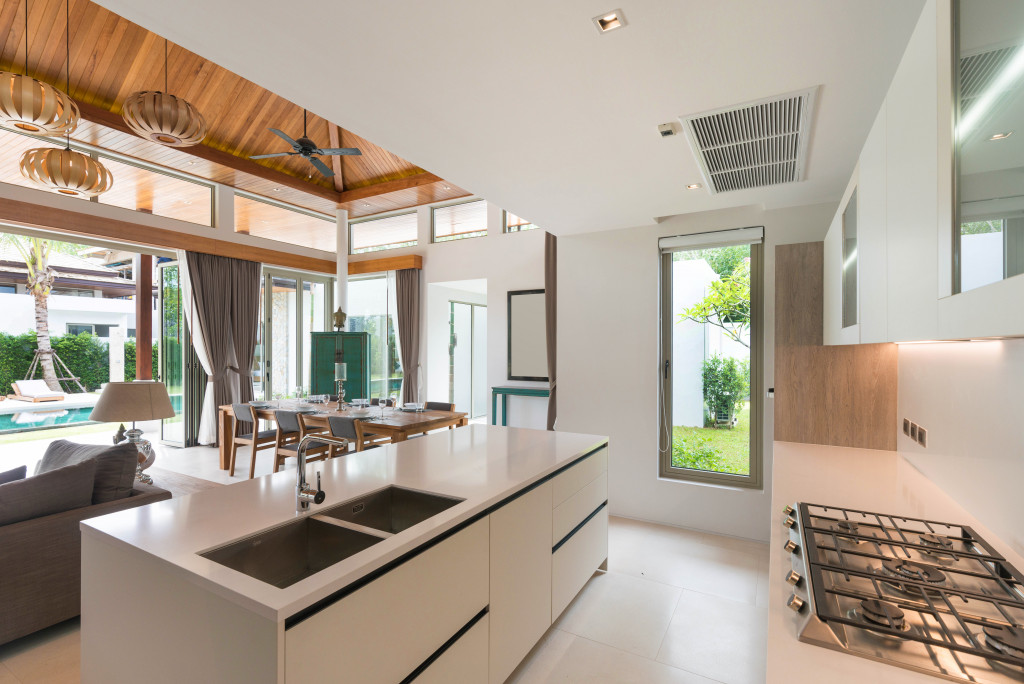 The kitchen can be busy since you use it every day to prepare food; hence, proper organization and storage are essential. Consider putting hanging rails and baskets next to the base and wall unit to hang your small pans and pots. In addition, you can attach a piece of wood somewhere in your kitchen to drill in some hooks for your cookware.
Moreover, put multiple shelves for your spices and small ingredients, which will make the supplies easier to view. A movable trolley is popular for storing craft and stationery supplies, but you can use this with your condiments, ladles, spatulas, and the like, too.
Pull-down racks can also give you instant access to knives and other kitchen essentials without racks and knife holders taking up space in the room. You can buy a pair of hinges and make your own or buy a ready-made one ready to be installed under storage kitchen cabinets.
In the Bathroom
It might be challenging to put everything you need in a small bathroom. You have to be creative in making extra spaces, like installing a medicine cabinet. Mount basket-type containers near the sink or on blank walls that can hold what you often use, namely dental products, shampoo, and soap. Also, install hooks at the back of the door for your towels and robes.
Make use of the space above your toilet. You can attach shelves that fit above your toilet where you can place bottles of toiletry. Add floating shelves if you want them to look neater without the brackets. Also, you can free up your bathroom's floor space, making your bathroom feel and appear bigger. Maximize the floor space by adding a floating vanity to store towels, washcloths, and tissues.
Outdoors
When all else fails, you can always make another room for your stuff, like installing an attic or a basement, although that might be costly if you're planning to install from scratch.
The most practical way would be making a garden shed or taking advantage of off-site storage by renting out a storage unit. You can use a vehicle to move and transport your belongings. If you have bulky items to transport, now is the best time to browse through a wide range of forklifts for sale. Also, you can use a forklift in the yard to trim trees and plow away loose dirt piles and snow. Several storage units fit every budget, depending on the size. It would be best to research what suits you the most.
Final Thoughts
There are several tips and tricks to organize and declutter your home to get the maximum space you need for storage. You just have to be creative in making them, coming up with systems and solutions with all your belongings to have a more comfortable living space in your home.