The COVID-19 pandemic has compelled individuals and families to rethink how they live in their residential spaces. Before the global crisis, they would have their lives outdoors and go home only for rest and sleep. But during the pandemic, they have realized the value of a home and sought to remodel their own spaces.
In fact, home improvement projects have surged during the pandemic. As such, it is a good idea to jump onto this bandwagon. However, understand that such a home renovation project goes beyond aesthetics and functionality. As much as possible, you want a home where you and your family will live and survive in a COVID-19 world.
That said, here's how to make your house pandemic-proof:
1. Create a study room
Did you know that about 117 million students worldwide are still out of the classroom? Yes, the pandemic has led to the closure of schools around the globe. But thanks to digital technologies, online education has become plausible amidst the pandemic. And this remote learning is reshaping the future of education. If you have kids having their online classes at home, be sure to create a study room for them. If not, set up a dedicated space for learning and studying inside their bedrooms.
2. Set up a home office
Since the COVID-19 crisis in March of last year, many businesses have already adopted the work from home (WFH) policy. Chances are, you're one of the many WFH employees around the world. When asked if they want to go back to the office, most of these employees prefer to work remotely for good. It appears that the WFH is redefining the future of work. For this reason, you may want to set up a home office. Be sure to have a dedicated area that's conducive for working.
3. Have a workout space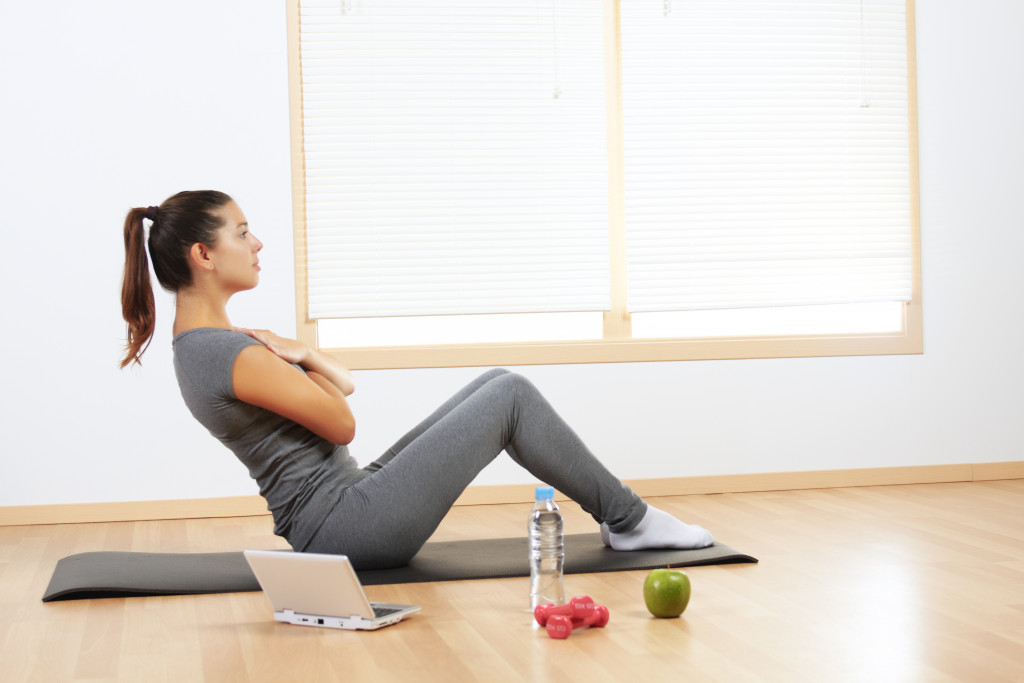 Physical fitness has become all the more vital during this pandemic. It helps in promoting physical health, mental stability, and overall well-being. Unfortunately, the pandemic has led people to have a sedentary lifestyle with less physical activity. To promote physical fitness and have a healthy lifestyle, be sure to set up a home gym. That said, have a workout space at home and invest in workout tools and equipment. That way, you can have your home exercises and encourage your family to do the same.
4. Turn your living room into an entertainment hub
It's evident how we've given up our leisure activities due to the pandemic restrictions. You have probably missed hopping to a bar, going to a movie house, or visiting a park for recreation. Fret not, as you can create an entertainment hub in your own living space. In fact, the Home Advisor reported the top home service projects in 2020. This report includes the installation of new smart home devices. As such, you may want to set up a home theater so that you and your family can watch a movie together and relax at home.
5. Make your basement a functional space
The basement is often one of the most neglected parts of a house. In most residential properties, it only serves as a storage room. But on the other side of the spectrum, basement remodeling is one of the best renovation projects. You can work with a basement contractor and ask them to transform this storage space. You can turn your basement into a guest room, a mini-bar, or an online gaming room. As an entertainment zone, the possibilities are endless for your basement.
6. Integrate indoor and outdoor spaces
It's easy to get stuck at home during this pandemic. You probably get hooked online browsing your social media, playing online games, and killing time. Even if you want to go outdoors, you don't want to compromise your health and risk your life. However, home isolation can take a toll on your physical and mental health.
For this reason, it's best to integrate your indoor and outdoor spaces. You can build a porch, deck, patio, or pergola connected to your house. You can also have indoor hydroponic gardening to grow plants, flowers, and vegetation. Ultimately, doing so will allow you to relish nature in the comfort of your home.
At this point, you now know how to make your house pandemic-proof. Be sure to consider some home renovation projects recommended above—from creating a study room and having a workout space to integrating indoor and outdoor spaces. In the wake of the COVID-19 crisis, you and your family deserve a place where you can live comfortably and safely.