Every trip to the beach requires the essentials: sunscreen, a beach towel, a beach bag, and other basics. But what about the fashion staples? Whether you're going to spend most of the day swimming or just sunbathing with a beer in your trusty portable chair, you're going to want to look good doing it.
That said, here are some fashion staples that every man needs at the beach—both for style and for comfort.
1. A trusty watch
When you look at a nautical watch for sale, you might be wondering if it is really made for the beach with how casual it looks. In fact, nautical watches are designed to look good and be functional for sailing in the open ocean—or just lounging by the beach bar.
However, don't confuse "waterproof" with "water-resistant." Nautical watches are water-resistant, meaning they can withstand water penetration to a certain degree but not entirely. Thus, if you want to swim with a watch on, look for waterproof sports watch instead that won't die even if you spend all day in the water.
2. A pair of durable sunglasses
Leave your expensive frames at home and bring a pair of your most durable sunglasses instead. Even if you're not going to be engaging in any extreme water sports, accidents can happen—someone can sit on your sunglasses, they can get lost while you're swimming in the ocean, or you can get hit in the head with a beach volleyball. Your expensive pair of sunglasses don't deserve that treatment.
3. Good-quality swimwear
There may not be a lot of options of swimwear for men, but you can certainly pick one or two that best fits your needs. Generally, swimwear for men has three main categories:
Swimming briefs. This type of swimwear may leave little to the imagination, but they allow for maximum movement, which is great for swimming and other types of water sports.
Swimming trunks. The classic swimwear for guys. Swimming trunks are usually made from nylon, polyester, or a nylon-polyester blend. They are lightweight and loose enough for most beach activities.
These shorts are initially made for surfing, but they can be an excellent choice for swimming and everyday activities as well. Usually, they are longer and looser than swimming trunks, making them versatile for almost any water sport.
Rashguard. A rash guard is designed to protect the skin from rashes and harmful UV rays. If you're going to be spending a lot of time out in the sun between 10 A.M. to 4 P.M. (when the sun's rays are the strongest), it's always a good idea to wear a rash guard.
4. Waterproof slides
Bring a pair of lightweight, waterproof slides to protect your feet from burning sand and sharp shells at the beach. Compared to flip-flops, slides are way more comfortable and provide more protection for your feet.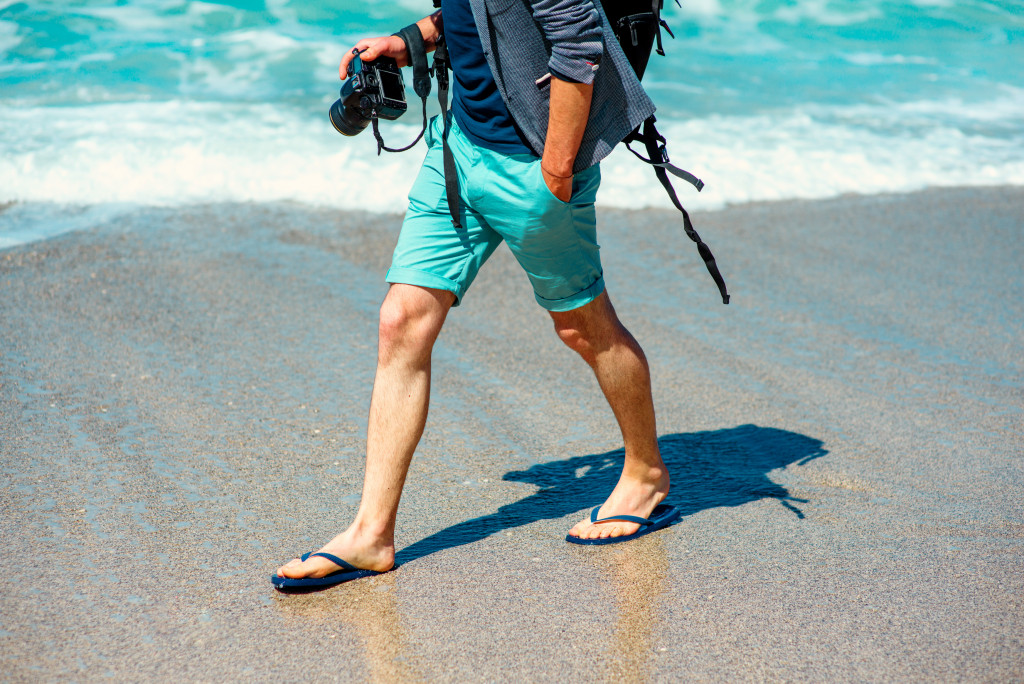 5. A brimmed hat
Your baseball cap won't do much to protect your face from the heat of the sun. Bring a brimmed hat instead to keep your fit stylish and, at the same time, keep your face from getting a sunburn.
6. A go-to beach shirt
Every man needs a classic beach shirt. Wear a loose, lightweight shirt to the beach in a neutral color (or with a print, if you want) with a pair of board shorts for an effortlessly classic look. If you want extra coverage, pair your shirt with a simple tank top or a loose white shirt inside.
Similarly, pack a shirt that you can wear to casual evenings at the beach. A shirt-sleeved button-up is always a classic choice. A long-sleeved button-up with the sleeves rolled up is also a great option, especially when paired with some chinos.
7. A pair of boat shoes
You're going to need a stylish pair of shoes for when you're not going to be wearing flip-flops or slides. Boat shoes always make a great option because they are lightweight, versatile, and very comfortable to wear. They look best when paired with some Bermuda shorts and a classic beach button-up.
8. A canvas bag or waterproof bag
A canvas bag is strong enough to hold a lot of stuff, and they are also effortless to clean. But if you're going to be carrying many things that cannot get wet, a waterproof bag is the way to go.
Conclusion
The items on this list check off the two main fashion goals for a beach trip: style and function. If you want to make your next trip to the beach as fashionable and comfortable as possible, don't forget to pack these must-haves in your bag.