Reiki is the healing of the unseen "life force energy" emanating from the body. This is a Japanese energy healing practice that emerged in the early 20th Century where Reiki Masters would heal the spirit of the person by moving their hands above the clients' clothed body. They believe that the body has a Ki or a life force that emanates from various points in the body, and this Ki should constantly be flowing tranquility around the body.
This kind of healing has been slowly receiving a lot of praises and positive feedbacks from the clients. This is a new practice on removing stress, tension, anxiety, and pain management that does not relieve the painful experience through narration and sharing.
Holistic medicine deals with achieving the full functioning peak of the mind, body, and spirit to attain maximum well-being. This holistic approach is helping many people, but only a few places and people offer this alternative medicine. To start this kind of business, you have to understand how it works and what you would need as a business person.
Here are reasons why people are going into the business of Reiki and holistic medicine:
1. It Is A Steady Market
Many people have been going to various holistic medical clinics to cleanse their spirits. This demand is creating a need for more clinics across the country. Men and women, both young and old, have tried this holistic medicine alternative, and they are satisfied with the results. When you learn about Reiki and holistic medicine fundamentals, you can share them with people who need them. Reiki is more on organic and raw materials. When there is a need in the market, there should be enough supply to balance it out.
2. Holistic Approach Is Non-Invasive
If you are a believer in a non-invasive medical approach, this type of business is good for you. This needs a Reiki master who can transfer a portion of his energy into the patient. The Reiki Master would transfer their energy into the patient, and the Ki will do the healing.
3. It Promotes A Healthier Lifestyle
As a business practitioner, this type of business promotes a healthier lifestyle because the negativity is flushed out of the system, and the Reiki Master renews the energy. To obtain that balance of energy flowing through your body, you have to follow a healthier lifestyle. If you want to live healthier and follow a sustainable lifestyle, this business will help you gain that boost. Holistic medicine promotes the balance of energy in the body, the same vision that the sustainable lifestyle wants to achieve.
4. Alternative Medicine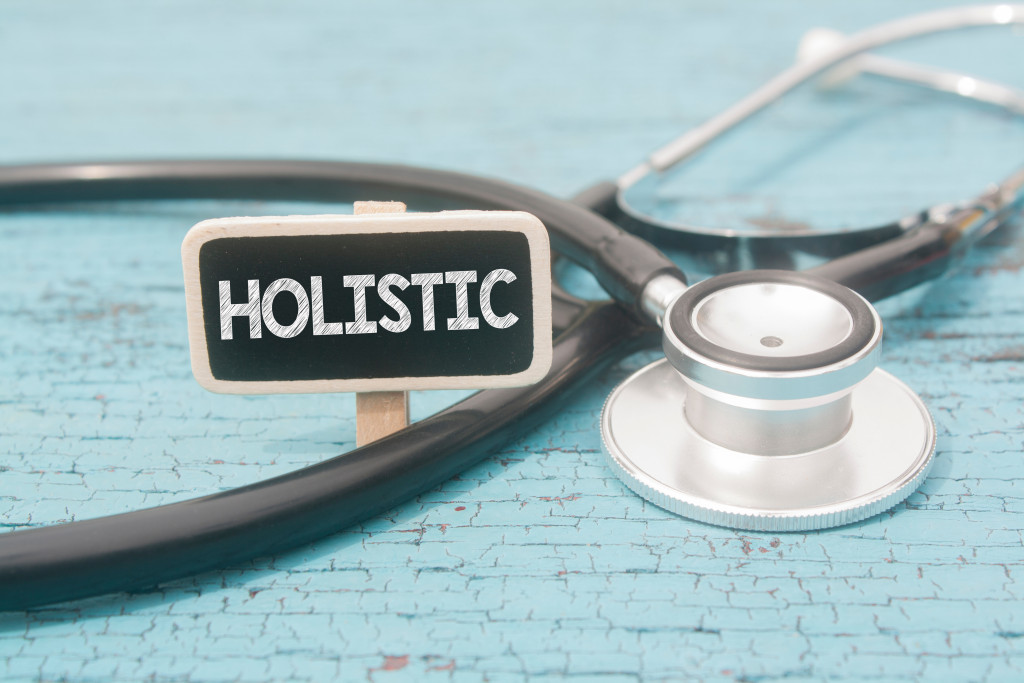 Holistic medicine is considered alternative medicine, and it is a choice by some people who cannot afford hospital bills. There may be people who believe that they can be cured without taking any medication. This kind of healing technique offers its patients the positivity that they may be cured by healing their spiritual energy.
If you want to provide herbal remedies for your clients when you put up a clinic, you need to find the best manufacturer offering a nutraceutical contract that aligns with your business goals. Make sure that all the ingredients are organic!
5. The Business Is Self-Sustaining
Since healthier options and holistic medicine are getting famous in many states, putting up this kind of business can give you a steady income because of the number of customers who will purchase the service. There will be clients who will constantly visit the location because they need a recharge.
6. It Is An Alternative Therapy For Anxiety And Depression
Since Reiki is focused on the constant flow of energy in the body, it normalizes the heart rate and blood pressure, relaxes the muscles, and relieves the tension from the body. These things are also some exercises given to patients with anxiety or depression. Instead of giving them medication, they are taught how to relax the body.
7. It Allows You To Learn More Things About Your Body
Opening up this kind of business will allow you to learn more things about the body. It will give you knowledge and understanding of how the Ki works in maintaining a fit body by healing the energy that flows. Learning about Ki will be additional knowledge, and it will be beneficial if you want to promote a healthier lifestyle.
8. You should become a Reiki Master
A Reiki Master is a medium that can transfer energy to their patient. Learning how the Reiki works, the flow of the energy in the body, the serenity that it offers after the healing, and the recharge that a person can obtain are the things that you will impart to your patient. You are promoting a healthier lifestyle; thus, you should influence your patients to follow what you tell them to do.
This energy healing technique allows the patient to believe that the pain will go away, and after the session, they are relieved from the pain. It flushes out the negative energy, and the body then receives positive energy that will heal the area in pain.
Setting up this kind of business, you have to be cautious because not everyone will immediately believe in the power of Reiki and Holistic Medicine. Some illnesses should still be checked by a licensed doctor. However, this type of business can give relaxation a lot of meaning. An energy cure may also uplift the patient's spirit, thus giving them hope that everything will be better. This is the power of healing the flow of energy that the body emanates.