There's something special about cabins. They can be simple or luxurious but always feel like a cozy retreat from the outside world. Cabins are the perfect place to relax and connect with nature. They're also a great way to spend time with family and friends. Cabin life is all about slowing down and savoring the simple things. That's why cabins are such a great place to get away from it all.
However, cabins can usually be found in the great outdoors, and you might not have the time to travel all the way there. The good news is you can replicate the atmosphere that cabins give by doing some redesigning in your own home.
So if you're looking for a way to add some coziness to your home, why not try giving it a cabin-like feel? Here are tips to help you get started.
Start with the walls and floor
When most people think of cabins, they envision a cozy space with wood-paneled walls. This woodsy aesthetic is often achieved with knotty pine paneling, which can be found at many home improvement stores. Start with the walls if you want to give your home a cabin-like feel. In addition to paneling, you can paint your walls in earthy tones such as brown, green, or red.
Once you've finished painting or paneling the walls, you can move on to the floors. For an authentic cabin feel, opt for hardwood floors or area rugs in rustic patterns. Finally, add some finishing touches like log furniture and hanging lanterns to complete the look. You can turn your home into a cozy cabin retreat with a few simple changes to the walls and floor.
Add some beams
When it comes to creating a cozy cabin feel in your home, few things are as effective as beams. Whether you use real wood or fake logs, adding beams to your ceilings can give any room an instant makeover. Not only do beams add visual interest, but they also help to create a sense of space and bring a touch of rustic charm to your décor.
If you're unsure where to start, try placing beams in your living room or bedroom. Consider using logs cut from a local lumberjack for a truly authentic look. With a little planning, you can transform your home into a cozy cabin retreat.
Bring in some plaid
Plaid is the perfect way to give your home a cabin-like feel. The pattern is often associated with country living and can help create a cozy and inviting atmosphere. Plaid fabrics are readily available in various colors and styles, so you can easily find a look that suits your taste.
Try incorporating plaid into your decor for a rustic touch by using it for window treatments, upholstery, or throw pillows. You can also add a touch of plaid to your walls by hanging a plaid-patterned quilt or tapestry. With some plaid, you can transform your home into a cozy cabin retreat.
Hang some taxidermy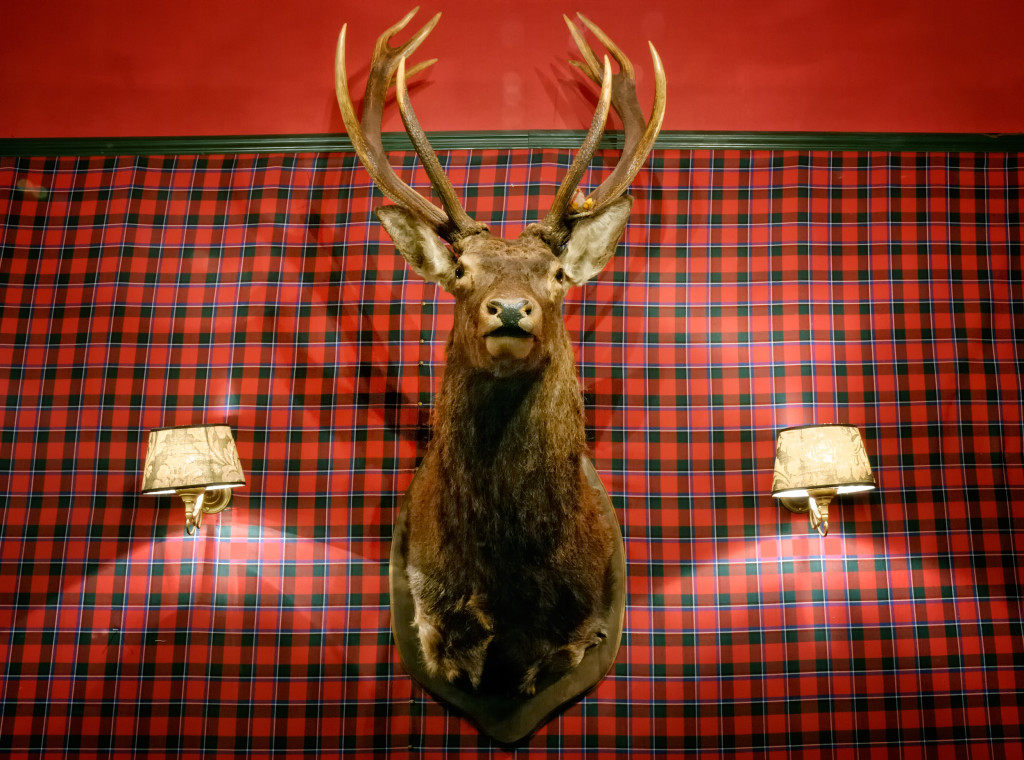 You can easily give your home a cabin-like feel by incorporating some taxidermy into your decor. Taxidermy is the art of preserving and mounting animal skins and trophies. It can add a touch of rustic elegance to any room. In addition to traditional mounted deer heads, there are many other ways to incorporate taxidermy into your home.
For example, you could display a set of antlers on your wall or keep a fishbowl filled with preserved fish. Alternatively, you could use taxidermy as a conversation starter by placing an exotic stuffed animal in a prominent location. Whichever way you choose to use it, taxidermy is a great way to give your home a cabin-like feel.
Take care of the nature around your home
Giving your home a cabin-like feel can be as easy as taking care of the nature around your property. If you have a lot of trees, make sure you contact tree care services. They will help you to ensure that your trees are healthy and looking their best. They can do this by helping you remove any dead branches or leaves that may be detracting from the appearance of your home. Additionally, they can advise how to best take care of your trees in the future.
In addition to taking care of the trees on your property, you should make an effort to take care of the landscaping. Keep your lawn trimmed and tidy, and remove any weeds that may be growing. If you have a garden, ensure it is well-maintained and debris-free. By taking care of the nature around your home, you can easily give it a cabin-like feel.
So if you're looking to give your home a cozy cabin-like feel, start by adding some natural elements and textures. Wood walls and floors are a good place to start, as well as exposed beams. You can also bring in some plaid accents, like throws and pillows. If you have the space, consider hanging some taxidermy. And finally, don't forget about the outside! Make sure your yard is nicely landscaped, and take care of any trees or plants around your home. By following these tips, you can easily give your home the cabin feel you're craving.