Adding outdoor elements such as decks, patios, water features, and pergolas can help improve the value of your family home.
Landscaping with ornamental plants and koi ponds with water features are excellent ways to design your outdoor area.
Adding a fire pit is an easy way to create something truly spectacular in the comfort of your own home.
An outdoor kitchen can provide a beautiful, functional space for gatherings, cookouts, and many more activities.
Renovating your family home is a great way to improve its value and make it more enjoyable for you and your loved ones. If you're looking for the perfect project to get started on, why not consider making some outdoor renovations? Outdoor renovations can be as simple as landscaping or building a deck, or something more extensive like adding an outdoor kitchen.
Whatever you decide, these changes will add beauty and functionality to your home while also increasing its market value. With careful planning and consideration of budgeting constraints, any homeowner can create a unique outdoor living space in which their family will love spending time!
Landscaping
When it comes to enhancing your family home, excellent landscaping is one way to generate both visual beauty and practical improvements. A well-designed and thoughtfully maintained landscaping provides plenty of benefits for the homeowner, including increasing the property's value, expanding usable space outdoors, and improving environmental quality.
Done well, landscaping may incorporate attractive features such as ornamental plants or a koi pond with a water feature. The possibilities are endless; what is essential is that you take your time in planning to make the best out of your outdoor area. You can research different designs yourself or consult a professional landscaper who can help identify possibilities per your vision for your property.
Construction Ideas
Here are some ideas for outdoor construction ideas to consider:
Installing a Deck or Patio
Installing a deck or patio for your home is an excellent way to create extra outdoor living space. Not only does this provide a place for you and your family to relax and enjoy the outdoors, but it can also add value to your home. Installing a deck requires planning, allowing enough time for planning, preparing the area, purchasing materials, constructing the deck, and taking care of any necessary finishing touches.
Paying attention to details throughout this process will ensure the highest quality finished product and the safety of all those using it. Building codes should be strictly followed so that the new construction meets local regulations and is durable over time. In addition, selecting materials that are both affordable and long-lasting is an important consideration as well.
Setting Up Water Features and Ponds
Water features or ponds in your family's home can be a wonderful outdoor renovation project. Not only is it aesthetically pleasing, but it also provides many benefits. Water features and ponds benefit local wildlife habitats by offering homes for plants and aquatic animals while filtering out harmful chemicals and pollutants from rainwater runoff.
They are also beneficial to the home's human inhabitants as they reduce noise levels while increasing oxygen levels in the air. Additionally, they add visual beauty to any yard by adding reflection and life to the environment. Properly doing this renovation is essential for the longevity of your pond or water feature and for environmental reasons.
Therefore, it is strongly recommended to plan carefully and understand various techniques before beginning any project that involves installing water features, such as using rocks, plants, and artificial structures to create them correctly.
Adding an Outdoor Kitchen
Adding an outdoor kitchen to your family home can be a fantastic way to extend the entertaining options and quality of life you and your family experience. An outdoor kitchen can provide a beautiful, functional space for gatherings, cookouts, and many more activities.
Not only does it help to create a comfortable atmosphere outside, but it also increases the value of your property. Moreover, an elaborate yet stylish outdoor kitchen setup makes for exciting conversations during gatherings, which can create lasting memories with family and friends.
The benefit is even more significant if you live in an area that experiences long summer months, as having an outdoor kitchen allows extra time spent outside in the fresh air and preparing meals outdoors while entertaining guests.
Adding a Pergola
Adding a pergola to your backyard is an excellent way to upgrade your outdoor living space. Not only can it provide shade and protection from the elements, but it can also help make your home more attractive. When done correctly, the pergola can add value to your property while providing an area for entertaining family and friends. It's essential to take time when planning the installation of a pergola, as this will affect how well it lasts and its visual impact.
Make sure you select materials suited for outdoor exposure, such as wood or stone, and avoid using metals or plastics whenever possible. Additionally, consider factors like location regarding privacy, sun shading, and access points before beginning construction – all of which will enhance functionality and the overall look of the feature.
Building a Fire Pit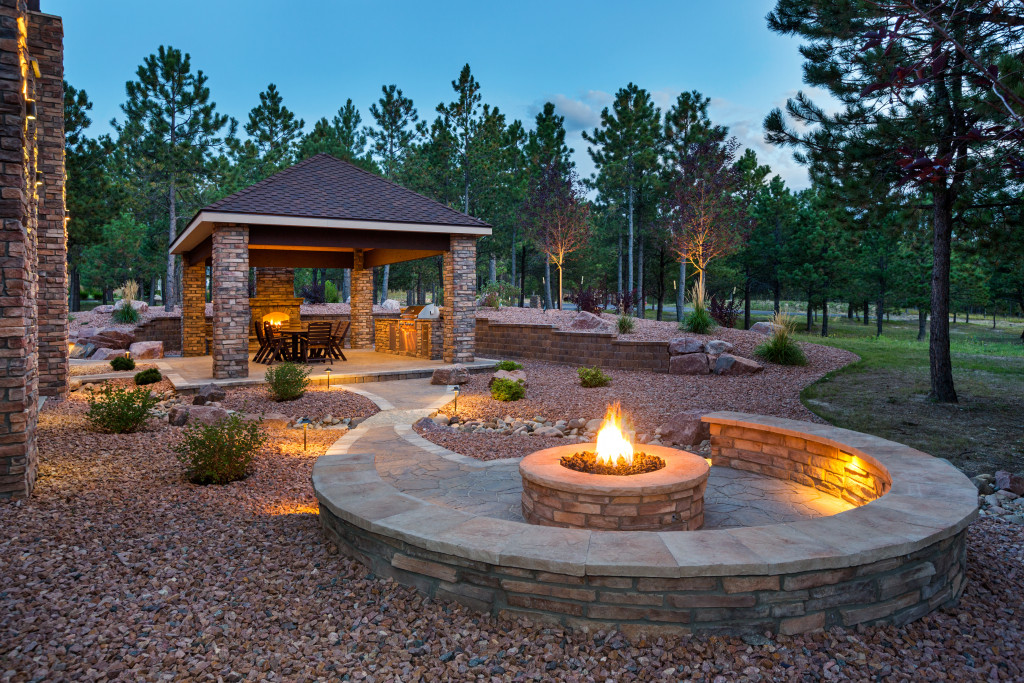 Building a fire pit is an exciting outdoor renovation project that can help your family make memories that will last a lifetime. Many people are hesitant to invest the time and effort required for such renovations, but the value derived from adding this outdoor feature is tremendous.
It provides outdoor warmth on crisp nights, gives friends and family a place to gather during summertime barbecues, and provides hours of fun roasting marshmallows under the starry sky. Furthermore, it adds a rustic touch to your backyard space that perfectly complements traditional decor and landscape.
These are just some outdoor renovations you can consider to improve your family home. With careful planning and consideration of budgeting restrictions, any homeowner can create a unique outdoor living space that they and their loved ones will enjoy for years to come. With creativity and dedication, everyone can have the backyard of their dreams!