The financial impact of the COVID-19 pandemic has urged people to be more conscious of their finances. People are relocating and moving into smaller homes to save money. Meanwhile, those constructing a new home during a pandemic seek the help of 3-D scanning companies to minimize the costs of construction projects.
Whatever situation you're in, homeowners these days are changing their spending habits. Many are performing DIY tasks or any job they can do by themselves to save money, and moving homes is not an exception.
DIY moving is perfect for budget-conscious homeowners who want to spend as little money as possible for their relocation. It allows them to take control of the moving process without paying a professional mover.
Whether you're moving to a nearby town or an entirely new city, packing your belongings and moving them on your own can be a cost-effective way to relocate. So if you find yourself in this situation, you'll likely encounter some challenges along the way. With that in mind, here are ways to simplify your DIY relocation.
Use the right moving supplies
The right moving and packing supplies can make a big difference in making your relocation stress-free as possible. Having complete supplies will keep your items safe, prevent injury, eliminate delays, and speed up the moving process.
The size of moving boxes matters when packing. Forcing your items to fit in a small box can cause injuries or damage to possessions. Meanwhile, choosing a larger box that exceeds the space requirement can leave your items unsecured when handled and transported.
Packing tape with a dispenser is another priceless tool that helps in sealing boxes. Make sure to buy several rolls that are enough to seal the containers.
Fragile items or valuable possessions, such as paintings, figurines, mirrors, and vases, require soft wrappers to keep them safe during travel. Use a stretch wrap to act as a protective cover for movable items and furniture pieces, such as drawers and cabinet doors.
Also, don't forget to use labeling materials, such as markers, stickers, and labeling tape to remind you of the contents of each box. This will prevent injuries (e.g., broken glasses) and losing items.
Pack a box containing personal necessities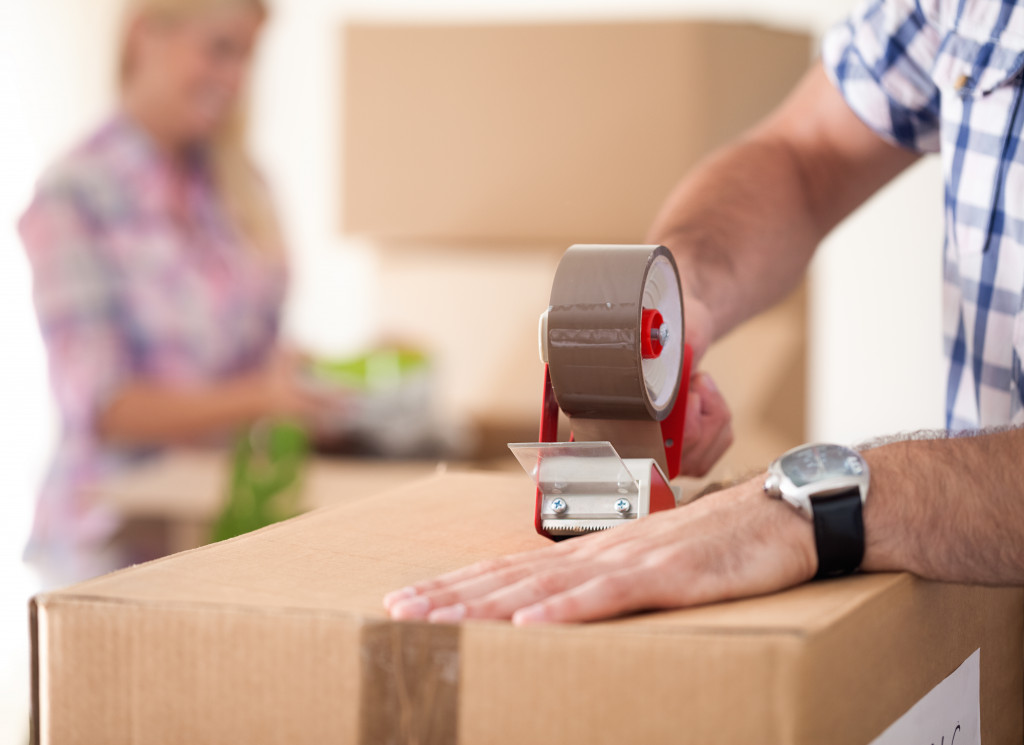 Settling down to your new home will take you several days before you can completely put everything in order. That's why you may expect the first night will be quite uncomfortable for the family. You might even feel tempted to tear through the boxes to find your night essentials.
A great tip is to pack one moving box that contains essential items you need during the first night in the new house. These include clothes, a toothbrush, toothpaste, toilet paper, blankets, bedsheets, pillows, eyeglasses, medicines, toiletries, or anything that you can't simply live without.
Follow the correct box size
Another cause of injury when moving is making boxes too heavy. Although you have a large box to fit all your belongings, never overload it with items to the point the mover can't carry them. Save yourself and your movers some injury by following the right size for the moving box.
To prevent overloading boxes, put heavy items (e.g., books) into small boxes to make them easier to carry. You can also place the fragile items in small boxes to prevent stacking extra weight on top. Large boxes should contain only the lighter items to avoid overloading, regardless of the number of items you place inside.
If the boxes end up with plenty of empty spaces, make sure to pack them tightly. Leaving out empty spaces will cause the items to shift, leading to breakage or spills. Do this by filling the boxes with light items, such as blankets, newspapers, towels, or pillows to accommodate the empty space without putting in extra weight.
Let go of unnecessary and unused items
Before you start moving, make sure to devote time to clearing clutter and unused items around the house. The last thing you want is to simplify the relocation by taking things you don't necessarily need anymore.
Besides having lesser things to pack, sorting out your belongings is a great way to earn money. If you have items that you rarely use but may still serve their purpose to other people, why not organize a neighborhood garage sale?
A DIY relocation is entirely possible, but it should never be taken lately. While it can save you a lot of money, you have to be aware of the risks involved. Thus, it's crucial to have a moving plan while staying organized to avoid mistakes along the way.