Summer weddings are beautiful and can result in beautiful photos. They're also lighthearted and require little in the way of decor because of the gorgeous weather and amazing wedding venues available during the season so not need a lot to be stunning. The only real problem with a summer wedding is the proper handling of the heat, humidity, and bugs.
Both adults and children can get dehydrated easily in the heat and the humidity can get very overwhelming without proper ventilation. Even being outdoors does not always help if there is no breeze. The right wedding venue will have prepared for such an eventuality and will have safety measures in place. But it cannot hurt for you to make some plans in advance to address any problems that could potentially crop up.
It is your special day and it is up to you and your spouse and bridal party to ensure that everyone has an enjoyable and memorable day. Often with the planning and preparation and time and effort that goes into a wedding, you will find that your bliss is in getting to sit down after a long day and simply enjoy the gorgeous venue and delicious food
Keeping It Cool
Even with a great ventilation system and fans everywhere, it is possible that people will feel a bit warm. During warm days when there is a lot of excitement, people often forget to drink water and take the time to cool down. Ensure that keeping cool is on their mind by providing little paper fans at every table. These paper fans will also make for a great extra party favor that people can enjoy and are easy to recycle after the wedding.
You can also have the waiters circle around the dance floor with shot glasses of cucumber water so that people take the time to refresh themselves. Sipping water in this fashion will be easier than making people drink a tall glass of water. It will also make them realize how thirsty they are and is more likely to send them to their table to take a moment to have a drink and cool down.
Sunscreen
Place pretty rattan bowls of sunscreen and moisturizing wipes in easy to reach areas around the venue. This will be a wonderful way to remind people that they must refresh their sunscreen and keep safe. You will find that parents with small children are especially grateful for this thoughtful touch. Small children are more likely to run around in the sun and sweat off their sunscreen faster. With the extra sunscreen available, their parents can reapply it on them and send them back out to enjoy themselves without worrying about sunburn.
The moisturizing wipes will help adults who feel sticky to wipe down their arms, neck, and face before applying a fresh coat of sunscreen. Make sure to have a few cans of spray-on sunscreen for anyone wearing a full face of makeup who cannot wipe it off easily.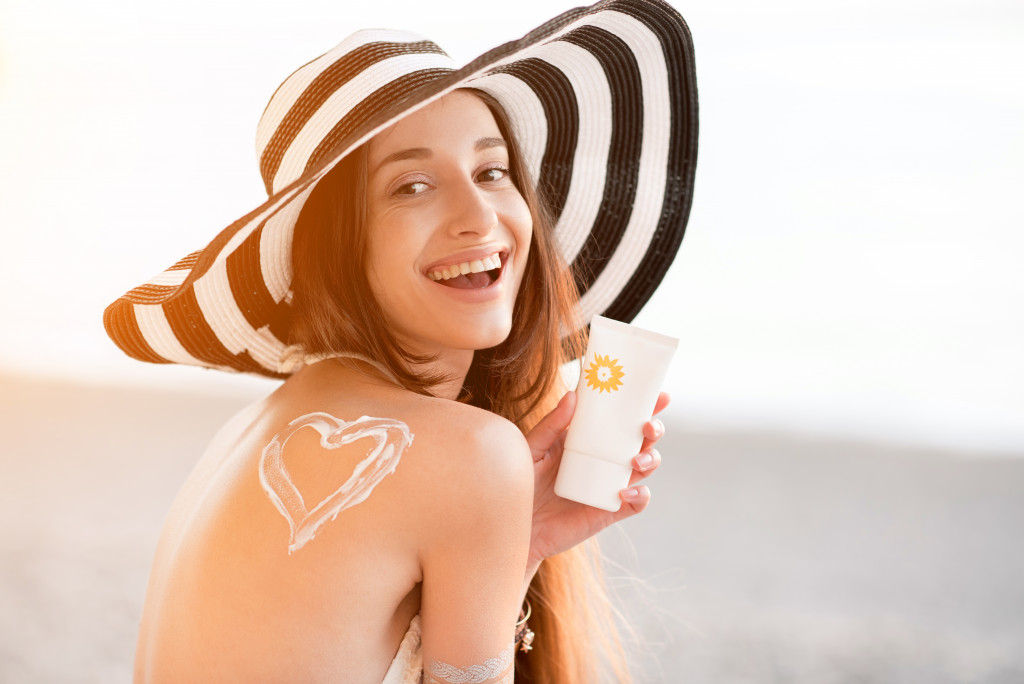 Ice Sculpture
If you make it fun, people are more likely to drink water and stay hydrated throughout the wedding. You definitely do not need anyone to faint at your wedding so you have to find a way to make them interested in enjoying some ice-cold water.
An ice sculpture is a great way to combine decor and practicality in one. Make it part of the wedding festivities by arranging for water to flow from the sculpture into a bowl. Allow people to scoop out water from this bowl into cups. Arrange to have dehydrated fruit and thinly sliced lemons added to the bowl at intervals. This will make people interested in tasting the water and more likely to keep returning to the bowl and refilling their cups.
Cover All Meta
A pretty metal fence can look good but it can also burn someone depending on the heat of the day. It is best to use a simple and clean white cloth to cover up the metal fencing close to where your reception is so no one accidentally touches the heat-up metal. This is especially important if you have small children at the wedding who may go close to the fence while playing.
Sometimes, some venues have benches underneath naturally shaded areas such as under large trees. But if these benches have metal parts, the heat can have made them too hot to touch as well. Walk over the area that your wedding will be in and discuss how the venue can help reduce the chance of burns from any metal in the area. Include the necessity of providing covers for all outdoor plugs and such that your catering or band may need. If it gets hot enough, the delicate metal bits inside the plugs could melt and a cover can help to prevent this.
You may want to suggest a clothing guideline for your guests so that they can dress for the occasion. Most people assume that a wedding will be formal and dress up for them. But a full face of make-up and a thick formal dress or suit might make them very uncomfortable.
Suggest light summer dresses and pastel shirts with nice khaki pants as options. This will help your guests to look nice while dressing appropriately for the weather. The way women do makeup for a light summer dress is also much lighter than they would for a very formal outfit. This means that you will get a lot happier and smiling photos of your girlfriends and aunts and family. Someone whose makeup is melting will likely try to avoid being in the photos too much.
The best way to know what you should prepare is to think about what you would have appreciated if you were a guest at a summer wedding. This would be a great starting base on which to build up a list of things to do to create a fun and safe wedding reception.