Keeping elderly parents at home is a great thing to do if the arrangement is safe for everyone concerned. But elder care is one of the most challenging and demanding professions you will ever have. That is why carers are so vulnerable to burnout and severe health problems. So if you are caring for an elderly relative at home, you must pace yourself. That implies you can't give it your all every day. We are, after all, human, and that is just not sustainable in the long term.
Pacing yourself and seeking assistance allow you to remain as healthy as possible to continue providing excellent care. When caring for your senior loved ones, you want to ensure that they are treated with respect, love, and patience. While it may be difficult at times, bear in mind that they do not quickly grow reliant on you or others for their care.
You must get acquainted with methods for providing them with the finest care available. To help you stay motivated in the long run, we've compiled a list of excellent ideas for keeping aging parents at home for as long as possible by minimizing the caring burden and stress.
Visit a Lot and Take Note of Their Medication
It is critical to pay them frequent visits. They need social contact with you, and you get comfort that they are secure, healthy, and doing well in general. During your stay, it's usually a good idea to look about the home for any problems that need to be handled, such as the general cleanliness of the property or if anything is damaged and needs to be repaired. Check their food supplies, laundry, mail, and plants regularly as well. Make sure that they have enough medical supplies.
All of their medications must be filled and renewed regularly. If they take several medicines, it is advisable to get a pillbox organizer with sections labeled with the days of the week and AM and PM dosages. This may make it easier for them to take their medications. Also, if a new medicine is given, be sure to ask the doctor or pharmacist about any potential adverse effects or interactions with existing prescriptions.
Hire Help
Hiring home care is an excellent alternative for allowing older people to age securely in situ. Professional in-home carers offer hands-on care and assistance with emotional and routine elements of everyday living for elders. Aside from the more obvious advantages of employing a caregiver, both older people and their family members can benefit from increased peace of mind. Consider the benefits of home care for the elderly if you are concerned about a loved one's capacity to live independently or your increasing obligations as their only caretaker.
Use Tech
Seniors are also seeing how technology is altering the face of aging, such as remaining socially connected with loved ones, staying physically and intellectually engaged, and prolonging their capacity to live securely at home for extended periods. You can assist your elderly family members in learning how to use technology that offer these three main advantages—and more.
Internet of Things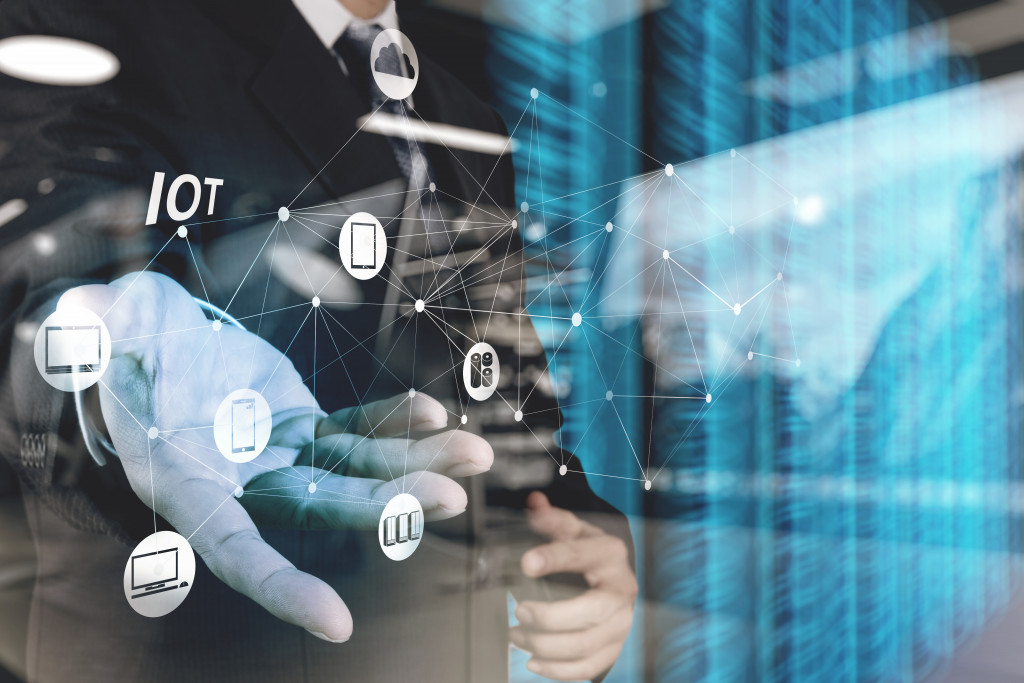 The Internet of Things (IoT) is a fundamental concept: it connects devices that can be switched on and off through an Internet connection, allowing for data exchange. This is also true in the medical field, resulting in the Internet of Medical Things (IoMT).
The medical community has begun to utilize this kind of information exchange to aid seniors with their prescription regimens, vital signs, and implants to help with their health. The IoMT is included in seven of the other elder care technologies we'll look at. They prioritize the rapid dissemination of information to assist the elderly in the greatest manner possible.
Cameras and Other Monitoring Systems
Cameras can assist with this. They enable seniors' relatives or caregivers to ensure that they are adequately cared for. Nurses, for example, have been caught on video taking advantage of the elderly. Cameras also assist health workers in tracking the activities of seniors with physical and mental problems while they are not there, noting their routines and inclinations. Cameras are just one of the types of medical alert systems for seniors that you can use to take care of older loved ones.
You must be healthy to care for others. Stress, anxiety, sadness, and musculoskeletal problems have been observed in those who care for their elderly. Divide the duties amongst you, your spouse, and other family members whenever feasible. You must remember to take breaks, go away for a while, and enjoy your life.